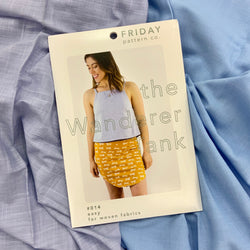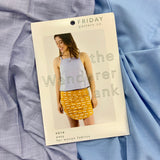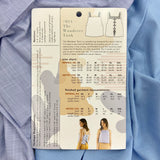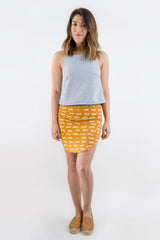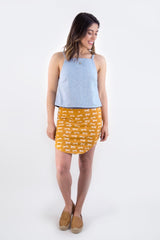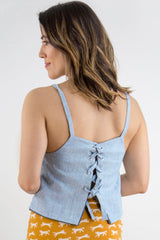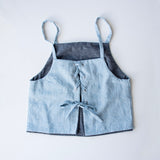 830.02-T320064
Paper Pattern : The Wanderer Tank | Friday Pattern Co
This product is a paper pattern , fabric is not included. 
If you would like to get PDF pattern , please go to Friday Pattern Co
Made in USA
The Wanderer Tank is a versatile top designed for woven fabrics. It is easy to sew and will faithfully accompany you on all your adventures. It has a boxy, comfortable fit and the laced-up back makes the fit flexible. It is fully reversible, flip it inside out and you've got a whole new top. It is loose enough to layer over a t-shirt or dress. Suitable for woven fabrics. 
5/8" seam allowance included
Beginner level sewing
Designed for woven fabrics
Fabric Consumption
You will need two different fabrics, they will be referred to as Fabric 1 and Fabric 2. There is a piece that laces up the back of the top. You will need to decide what fabric you want to use for your lace piece. The lace can be replaced with a 1 2/3 yards of cord or ribbon.
XS-M // Fabric 1 and 2 // 45"-60" wide // .6 yards (.5 metres)
L-XXL // Fabric 1 and 2 // 45" wide // .8 yards (.7 metres) 
L-XXL // Fabric 1 and 2 //54-60" wide // .6 yards (.5 metres)
all sizes // Lace Fabric // 45" wide // 5" (13 cm) 
all sizes // Lace Fabric // 54-60" wide // 2.5" (7 cm)
Tokoencit's Fabric Suggestion
Cotton Crisscross 59" 100% Cotton
TR Shirt 57" 65%Polyester 35%Viscose

Euca Sateen 59" 100% Lyocell 
Lace option : Flat Lace Daisy 57" 100% Nylon
Notions
8 - ¼" eyelets (Dritz Large Eyelet Kit)
2 fabrics (as above explanation),
Optional: scrap of lightweight fusible interfacing (if using a light fabric)
Size Chart
Finished garment measurements (in inches/centimeters)